What my clients say about me
I got to know Kirstie through her membership of the FSB. From the start I found Kirstie relaxed, professional and likeable. I asked her to take some photos of our Connect networking events in Crewe and Congleton, the ongoing results have been outstanding, with many of the attendees passing favourable comments on the posted photos. I then asked Kirstie to do my own headshot for my LinkedIn account. Trust me, getting the final one to use, down from the many that she took was very hard as all were of a high standard!! To her credit, throughout the photo session, she made me relaxed and at ease. Something in itself, is a major achievement for someone who hates photos of himself!! I recommend Kirstie whole heartedly and without any doubt the service she offers is second to none and anybody looking for a free of charge quote should contact Kirstie.
Darren Gallimore - Federation of Small Businesses
In my role as headteacher, I was looking for some professional photos for our school website and for other reasons. I don't mind admitting that I was nervous about a photo shoot, but I really enjoyed the experience. It was lots of fun and Kirstie put me at ease. I love the photos as they make me look friendly and fun and capture our fabulous school perfectly. Kirstie comes highly recommended!
James Bancroft - Business Portrait Shoot
I hate having my photo taken. I hate putting pictures of myself on the internet. I spent a sunny afternoon with Kirstie and now have a choice of professional headshots to use in my work. I am often complimented on them, and instead of mumbling about hating having my photo taken, I can now instead reply with a heartfelt recommendation – if you need headshots for your business contact Kirstie Edwards, she's awesome.
Lynda Pepper, Pepper Social - Business Portrait Shoot
Kirstie recently did a fantastic business portrait session for me. I was very nervous and hate having my photo taken. Kirstie made me very at ease, helped me choose what to wear and we went out to a local park with nice buildings. Kirstie showed me the photos as we went along which relaxed me. She made me laugh too so we got some lovely natural shots. The way she uses locations that you don't think about is really effective. Every photo she took was so professional, it was hard to choose from them. But I ended up with 3 photos that I am proud to display everywhere as the real me! Thank you - I would recommend Kirstie for anyone looking to update their business headshots, as she will give you something unique, natural and most importantly, YOU!
Alex Platt - Copywriter - Business Portrait Shoot
I had a really enjoyable photo shoot with Kirstie to produce a variety of photography for my two businesses. She is extremely professional and good value for money.
Ele Morrissey - HR Director/Business Owner - Business Portrait Shoot
I met Kirstie through Bizmums and have always admired her relaxed and natural style of business portraits. When it came to me needing my own done I knew she would be perfect for the job, not only because of her style but mostly because with her friendly personality. Kirstie is able to make anyone feel very at ease - which is great if like me, you feel awkward about having your photo taken. The photoshoot was a very relaxed experience and Kirstie was prompt in sharing the photos for selection and doing the retouching on the final ones. Would definitely recommend.
Sharon Lam - Blue Lily Magnolia - Business Story Shoot
I have been delighted to work with Kirstie on a variety of projects. She was excellent when taking photographs of Wright Marshall staff members - everyone felt at ease and came out looking relaxed and happy on the final shots! See the people section of the Wright Marshall website. On a personal level, Kirstie took the photos for my own website. Kirstie showed imagination and flair in all her work and the end result was most pleasing. Most importantly of all, Kirstie is honest, reliable, fair with her charges and a consistently good communicator. I would happily recommend her services.
Robert Reed - Estate Agent, TV & Radio Broadcaster
Absolutely love Kirstie's style of photography. Informal, relaxed and in natural environments but still maintaining complete professionalism. We were delighted with the images, all of which capture our business story perfectly. Kirstie made us feel at ease throughout the whole shoot and if I dare say it, it was actually good fun! Can highly recommend Kirstie and hope to be using her services again very soon for the next chapter of our story.
Nicola - FoodFit UK - Business Story Shoot
I am thrilled with my portrait photos and business shots Kirstie took for me. She was able to capture several fantastic portrait shots I cant believe I actually found it hard to choose! The location shots of the buildings I wanted were perfect. Kirstie clearly has a great eye for framing a shot which just worked perfectly for what I needed for my website!. My husband thought they were fantastic too and I wouldn't hesitate to use Kirstie again and recommend her. Thanks to Kirstie I can't wait to launch my new website!
Carol Clarke - Bramhall Town Planning - Business Portrait Shoot
Kirstie is brilliant. Her style is professional, relaxed and natural. I normally don't enjoy photo shoots but Kirstie made the whole thing comfortable and easy. And I love the headshots that she has produced for me. Highly, highly recommended.
Jo Howarth, The Happiness Club - Business Portrait Shoot
I recently worked with Kirstie Edwards on a 'business story' shoot. Kirstie is so approachable and has a real gift for putting you at ease. She produced simply beautiful shots and worked hard to get the right angles and the right natural light to showcase me and my business well. All communication with her was timely and professional too. I'm so pleased with the results and it was an absolute pleasure to work with Kirstie on this.
Transformational Massage with Lynn Tammadge - Business Story Shoot
I had my vintage event photo shoot with Kirstie. We did it in a forest and I am astonished at how talented Kirstie is. I was flapping around getting stressed but there she was in the background getting amazing shots. Kirstie really gave me the confidence to let go and enjoy. I had so many children there but she was oozing calm and has managed to create totally amazing images from the chaos of children. Kirstie is so professional but very relatable at the same time. She's just a lovely mum with an incredible talent. I will definitely be using Kirstie again
Stephanie, Bella & Fleur Vintage Events - Business Story Shoot
Kirstie helped me a lot having my professional photos done, she was patient and listened and nothing was too much trouble, she put me at ease when having my profile picture done, the quality of photos are exceptional and I would recommend her highly. Great service, great price and quick turnaround of photos processed.
Mandy King, Kings Curtains Ltd - Business Story Shoot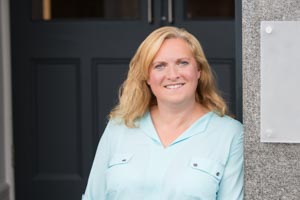 Thank you Kirstie for the fab business photos you took for me recently. I've been putting this off for years, expecting it to be an uncomfortable experience & not really expecting to like the resulting pictures anyway. I LOVE the pictures you've taken though. You captured the professional but natural look exactly as I was hoping for. The chin-wag over coffee beforehand was great. It helped me to feel that you really understood what I was looking for & the photos prove that. Now I have a selection of business photos that I'm really proud of!
Paula Cohen, Taylory - Business Portrait Shoot

Kirstie Edwards is fantastic and a lovely lady. Her photos are timeless, natural and true professional quality.
Emma & Jon - Family Portrait Sessions
I've just looked at the photos you sent over and I wanted to tell you how brilliant they are: happy, smiling people in all the situations I was looking for - on a course and enjoying the conference. Fantastic job, thanks so much!
Lynn Dunlop, Hollin Consulting - Conference Photography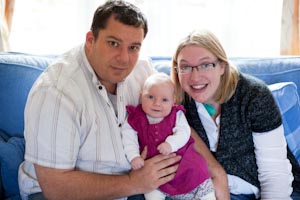 Our family photographs were just what we were looking for- in our home, relaxed and professional. the pictures made lovely presents as well as family photos we will treasure always. Many thanks Kirstie.
Sarah, Marc & Abigail - Family Portrait
I was really nervous about getting my portrait done and had been putting it off for ages. However after contacting Kirstie the process was really smooth with excellent results! Kirstie is really friendly and her manner put me at complete ease, which enabled me to relax and I even enjoyed having the photos taken. Kirstie got some great shots and I was so impressed with the quality of the pictures and also at how quickly she edited them and sent them through to me for review. She is a true professional who I would highly recommend.
Cindy Adegbile, Cindy & Co - Business Portrait Shoot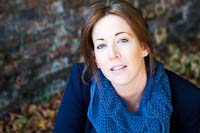 Kirstie has taken the first decent photograph of me in my life. In fact, I would even go so far as to say its not just decent, it's really, really good! Like most people, I hate my photo being taken, but Kirstie made me so comfortable and although I was nervous at first, I quickly got used to it and may have even enjoyed it a bit. I now have a professional, but friendly profile picture that I use for my website and social media.
Kate Spratley, Give the Dog a Bone - Business Portrait Shoot
I had a photo shoot with Kirstie and was very pleased with the whole service. I was 28 weeks pregnant at the time and working full time - so very tired! It was great that Kirstie could come to my house for the shoot which meant I didn't have to drag myself anywhere, it also helped to put me ease. The resulting photographs were beautiful - choosing which ones to have was the hardest part. I am so pleased I had the photo shoot as it is so nice to look back on those pictures and once my little one is big enough to understand I can't wait to show her. One of the prints hangs on the wall in our living room and people always say how lovely it is. I would highly recommend Kirstie to anyone who is thinking of having a pregnancy photo shoot.
Thaksala Haylock - Maternity Portrait Session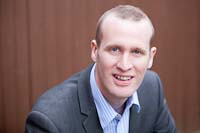 Capgemini run a global marketing campaign called Expert Connect, which connects experts in their field to potential customers. For this they required a professional photo to be put on to their global website. I contacted Kirstie to help me with this. As can be seen on the capgemini.com website, it is a superb photo, expertly taken, in a professional and relaxed way. I would not hesitate in recommending Kirstie to anyone else who would like their photo taken.
Paul Tomlinson, Capgemini - Business Portrait Shoot
Congratulations Kirstie. You have managed to make us cry and left us with a dilemma. The photographs are stunning and the slide show with the music was fantastic. How do we choose now? Thank you so much xx
Denise Johnson - Family portrait