A trip to Tropic HQ
Some of you may know that I have another business alongside portrait photography. I don't really talk about it enough but I've been a Tropic Skincare Ambassador for almost 4 years. I was fortunate enough to win a trip down to their HQ in Croydon in 2016 after only a year in the business and since then, they have moved to a brand new beautiful premises so I was very excited to have the opportunity to visit the new place.
From the minute we arrived to the minute we left we were treated like royalty by Susie, Carlton and their wonderful team. A stunning place, beautiful vegan food, cocktails, gifts.....
We arrived just after 9.00am and were treated to a scrummy vegan breakfast buffet and fruit juices. It was great to meet up with other ladies in my team and have a look at all the wonderful displays of products and photographs, slideshows of past Glambassadors events and incentive trips and the flowers and plants were amazing, it was like stepping into a Tropical paradise!
We had a warm welcome from Susie Ma, the founder and CEO and Carlton Connell. They gave us the running order of our day, we were split into three groups and our first activity was to learn how to make our own terrarium, a small garden in a glass bottle. I loved doing this and mine is now proudly sitting on my kitchen windowsill!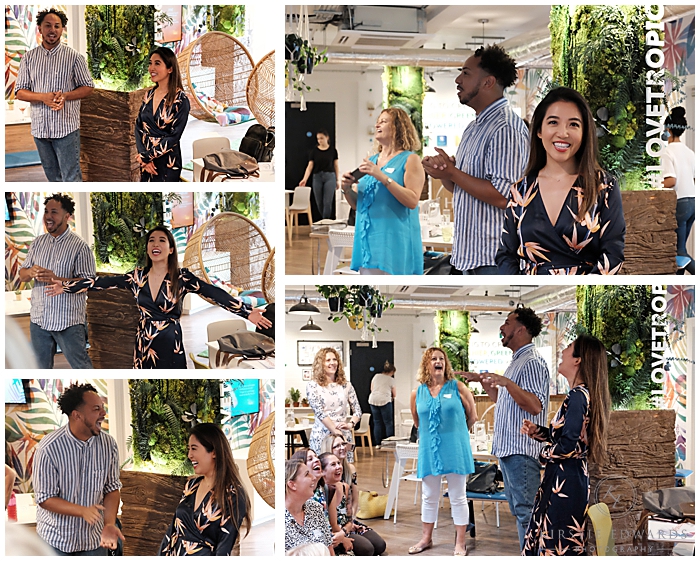 We then had a mid morning cocktail break before heading out on a tour of the whole building with Carlton. Tropic Skincare has grown enormously in the four years that I have been an Ambassador, we have won the Sunday Times Fast Track 100 Award several years running and continue to be the fastest growing beauty company in the UK. You could see the amazing growth in the business from my last visit, the sheer size of the machines used to mix the products, the much larger office and a LOT more staff. The mascara was being mixed in a container that was large enough to mix the body scrub three years ago. It's a huge place now but still as friendly as it was. Carlton was explaining that although they do need some automated machinery now to keep up with the quantities that are ordered, they still ensure that the products are mixed, filled, sorted and touched by as many people as possible.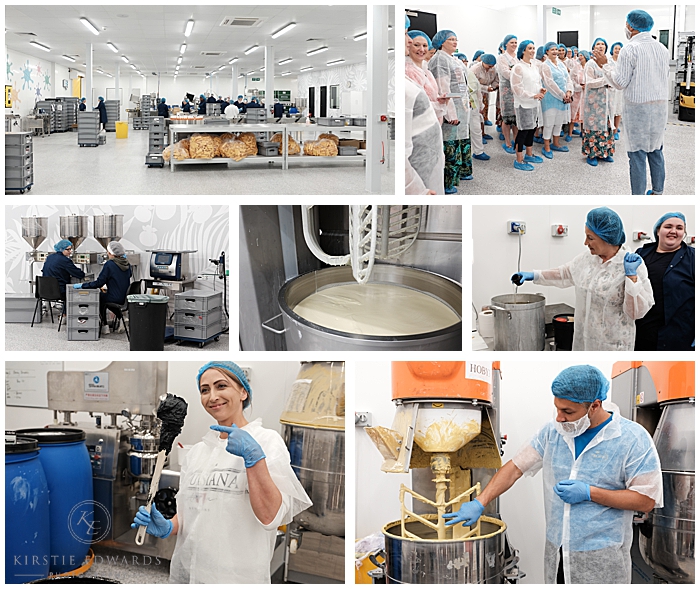 Once we'd had a tour of the production space, we were given a chance to join in, some of us filled bottles, some of us stuck on labels, it was lovely to get involved. It's clear that everyone who works there just loves their job. We visited the packing and shipping departments where some of us got to pack our own orders and the large open plan office where all the sales, marketing, social media, finance, HR and our lovely Ambassador support team are based. There was a warm and friendly atmosphere wherever we went.
We then had a break for lunch and were presented with more cocktails, an amazing vegan feast and cake to die for! Susie and Carlton were around all day for photographs and to answer any questions we had. Susie is the most genuine, kind person and she really went out of her way to make sure we all had an amazing time.
Our last and most fabulous activity of the day was making our own perfume and lip glazes with Susie Ma. We got to choose our own essential oils and blend our own perfume and then choose our own colours to mix into our perfect lip glaze shade along with some natural flavour - I went for mostly pinky shades and a pineapple and mint flavour - Yum!
I had the best day and came back full of enthusiasm to share the benefits of being part of this incredible company. If you are interested in natural, cruelty free skincare and make up and would like to try these products for yourself - (and yes there is a gorgeous mens range too!) please get in touch with me or you can browse my shop www.kirstieedwards.co.uk/tropic and if you'd like to join me on this trip next year, speak to me about becoming an Ambassador in my team! I have the BEST boss in the world!
Tagged: adult portraits business photography natural light tropic skincare